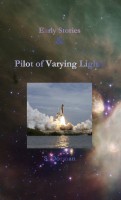 As well as promoting disruption, writers themselves can be peculiarly seriously and appallingly disrupted.
While looking through an early collection of (indie published) short stories I noticed—distressingly, disturbingly—that at least one story had too many of "the." This was a stirring professional consideration: Is it worth the trouble to fix these the's? Carefully, I debated. Three editions: hardcover, softcover, e-book. Each would have to be changed, uploaded, and the new edition republished. I could get sidetracked and start looking for "the's" throughout the collection. I'd end going carefully through, combing for the "the", extracting wherever found oppressively redundant or replaceable.
The story had been written four decades ago. True, I gave it the cursory reading and editing after three decades (in order to publish), but somehow had missed the distracting overabundance of the. One hundred and four of them out of 1400+ words. Do you want a story containing a whooping 10% of the?
I'm not sure this would come under the category of Maine books, but think of the King James Version. According to my softcover concordance, "the" occurs in such abundance I started looking at columns of them and realized it was time to go digital. I find 76,542 matches in the Old Testament, 17,780 in the New. The word "a" appears more often at 22,067 times in the NT. Forty-seven other different minute words are referenced in columns without context, solely by chapter and verse, in my print concordance. I have no idea how many words are in the KJV, nor what percent is "the" …but "write" appears 98 times, "writer," not once. "Word" shows up 1244 times. (And this was before Bill Gates made Word famous, or infamous depending on your view of his software.)
After all these decades, pen in hand, I was disconcerted last week to noticed 27 occurrences of nothing in an essay—just completed. I had thought it ready for submission. So discouraging. My confidence was shaken. Almost sent out! How embarrassing. Twenty-seven nothings, in a piece of only 1743 words. Then I wondered, how many nothings would be found across the Maine oeuvre? I do like to see the word oeuvre in regard of my output. How masculine is that?! (I love masculinity for its own sake. Masculine is a great word, but imagine the very thing it stands for! It gives quivers of admiration just thinking about it.)
I will not think about it. —The number of oeuvre's nothings, I mean. I will brag about getting 14 nothings weeded out of that total 27 this past week. I shall continue slightly disheartened by the sheer waste of nothings, but just let me mention the fun I had extricating those 14. I did not know there was anything challenging for me in this writing— …I won't say business. My work is scarcely known enough to rate that word. I will call it… an activity.
I don't actually care that much for activity. Neither as word, nor as, well, activity. I'd rather see some specification. (Not the word specification.) I would rather see some masculine person, say, digging a ditch. While seeing this, I would not be seeing the alliteration of ditch-digging, either. I'd see masculine activity.
Activity needs more descriptive power. One cannot picture me sitting on a barstool at the tall narrow hardwood table laying down scribbles of black ink in a paper journal—sitting so very still and concentrated—and call that an activity. Not unless what goes on in the reader's imagination is an activity. Even that doesn't count, however. No one who is not much of a reader or writer will consider writing as activity. No. It must be ditch-digging, or, say, digging up saplings to transplant at the on-looking behest of some bright cheery young woman. Or perhaps he is rescuing her from fiends. (This could not be me, as I am now old and wrinkly, and not very cheery.) Imagining the activity of writing is not nearly as imaginative as imagining the masculine. (Too many "imaginatives" —I know.)
Although I did pretty good on that last paragraph, another word problem I'm still dealing with is the I's. Very hard to concentrate on getting the visionary, or even plain mental images, into translation on the page while at the same time remembering to keep out all those I's. They must be avoided. This avoidance was much easier when one was acceptable—even preferable. One could use one to one's heart's content, and no one would be offended by all those I's. I this and I that, and I don't know what all. Just I I I I.
Ay-yi-yi-yi-yi!
But this is where fiction comes in. Problem solved. Unless one makes the mistake of writing fiction in first person, no I's anywhere except in dialogue. If you want to go whole-hog on the I's—if you've been feeling restricted, penned up, need to run wild as from the farmer with his big knife chasing you down for the slaughter, you just make up a character who is full of herself. You can even do this in nonfiction.
Yes. Hush, though. People won't like to hear of you writing nonfiction while carefully crafting the I. I mean, c'mon. Do you really recall exactly what you were thinking 40 years ago for that memoir you are now writing? You were a child. Playing in the sand and someone did something terrible and there you are sitting, thinking, I must remember this exactly, make notes, so as to write my memoir truly and factually someday? Yes, you were writing, with quotation marks, note-taking exactly what people said as it came out of their mouths. Please. Stop categorizing your memoir in nonfiction if you weren't this kid. What you are writing is fiction, not nonfiction, and it ought to be so labeled. A little fiction leavens, turning nonfiction into fiction. You may say, But it's creative nonfiction! Let me observe that the creativity comes through the manner of your truth-telling. You tell the truth. You give the facts, with suggestiveness, creative language, structural patterning, craft—not fakery.
Fiction is a word I don't use very much even in fiction. So I don't have to worry about its overuse like I do with "the" and "I" and "nothing." (Nonfiction is another word I don't use very much.) These words should be relatively anxiety-free for either the would-be or seasoned reader/writer. So feel free to use them. —Just be sure they are accurately used.
I might add here: one is rather proud that in the essay, from which 14 nothings had to be deleted, only eight "something's" were found throughout the entire 1743 words.
There may be too much of adverb in this 1128 word piece. However, I refuse to check this entry for the.