Here is a bit of off-topic bookness, unrelated to Maine. First, I've been glad of a posting at The Fellowship of The King, entitled: The Hitch in Readying to Meet…
The genesis of this slice of the Afterlife was a mythgard.org fundraising flash fiction contest. The entry needed work.  In fact it still does, but I'm very happy it was received as is at TFOTK. The editor chose a wonderful sort of reverse situation image to illustrate.
The next piece of news is about the SF alternate universe novel SiXPointz HiTopOLis. This was hard to write and I asked editing help from Scribblerworks   She's an excellent editor if not totally timely. I used her to great benefit on Fantastic Travelogue. SiXPointz has been available at online venues in softcover, but now I've complied it as an ebook through Smashwords.  Smashwords is good for ebooking, as I was informed on the Tor blog by one of Tor's authors.  They ship to all digital-book venues but Amazon. You have to do Amazon individually.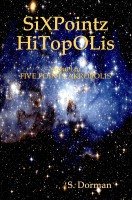 Finally on off-topic writerly, I've done some editing on Five Points Akropolis, in all three formats, hardcover, softcover and ebook. When the first Five Points Akropolis was about to come out a few years back, a virtual friend (also a Tor author) pointed out a couple problem spots on the first page! This was prompt enough to reread and tweak the whole book for debut. But now it's tweaked again. It's the same story but reads better, especially the character of the Grandmaster. And I set the 2016 copyright, in addition to the earlier date, on the copyright info page. It's not available for distribution in paper yet but should be shortly, as it's been approved.